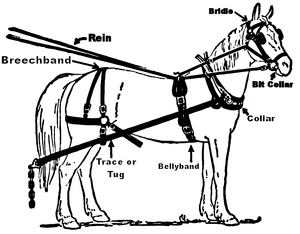 Tack is a word referring to all forms of equipment worn by the horse during work; ridden or driven. Tack is also sometimes used to refer to any piece of equipment a horse wears. Rugs and head collars should be referred to as horseware or horse clothing.
Types of Tack for Riding
Although it's possible to ride a horse without any tack it is uncommon. Most riders will use at least a bridle and saddle. Additional tack can be used to:
Help keep the saddle in place; such as a breastplate, breastgirth and crupper
For safety; such as a neck strap, horse boots and hi-viz ware
To give the rider more control; such as a running or standing martingale
Tack Selection and Care
All tack was traditionally made of black or brown leather, but are now available in man-made materials and in a range of colours. Good quality, properly cared for leather is still superior in terms of looks and durability, sometimes lasting an owner a lifetime and out living the horse. Synthetic materials however are becoming popular as they are easy to care for and store, and are cheaper. Whichever material you choose fit and comfort, for both you and the horse, is of absolute importance.
Tack is usually stored in a room for the propose near the horses. Ideally in should be devoted entirely to tack, with feed stores, cleaning and drying taking place elsewhere. This is especially important if leather tack is stored as leather can rot in warm damp conditions. The room must be able to be secured, as tack is expensive and an easy target of a busy or quiet yard. Barred windows and a 5-lever mortice lock is demanded by most insurance companies.
All tack must be kept clean, both to prolong its life and for the comfort of the horse. Synthetic materials can be cleaned with soap and water and some can be put into the washing machine. Leather tack must be cleaned and then saddle soap applied. Leather should in periodically oiled to keep it soft. Waterlogged leather must be dried slowly and oiled.
Community content is available under
CC-BY-SA
unless otherwise noted.