The National Show Horse, often abbreviated to NSH, is widely considered as one of the most beautiful and talented breeds in the world.
However, it may come as a surprise that, although these beautiful horses have been in existence for countless years, but were only officially recognized as a breed in 1982 and the National Show Horse registry was formed.
The National Show Horse originated as a cross between an Arabian horse and Saddlebred horse, and is now firmly established as a separate breed.
These beautiful horses stand between roughly 15.0 hands high and 16.0 hands high, but their slim, long-limbed physique often ensures that they appear larger. Their proud carriage also contributes toward this factor.
"The National Show Horse combines beauty, grace, athleticism and personality in a harmony of features representing both breeds." according to the description offered by Breyer Animal Creations. This sentence sums up the breed perfectly.
The stellar quality of these horses is only matched by their beauty and style both in hand and under saddle.
The NHS is a popular choice for riders, thanks to its incredible versatility and intelligence, as well as its willing-to-learn nature. These multi-talented horses excel in a wide variety of disciplines and classes, including, but not limited to, Halter, English Pleasure, Pleasure Driving, Country Pleasure, Fine Harness, Three Gaited, Five Gaited, Western Pleasure, Hunter Pleasure, Show Hack and equitation.
The crossing of Arabian and Saddlebred blood produces wonderful horses. Today, to be registered as a National Show Horse, a foal must have at least 25% Arabian Blood, but no more than 99% Arabian Blood.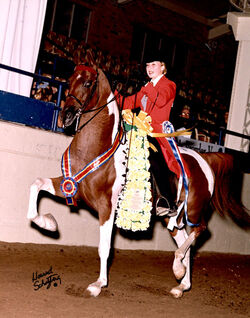 Community content is available under
CC-BY-SA
unless otherwise noted.