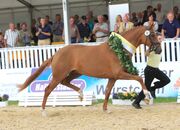 Originally bred in Germany, the Hanoverian was used for riding and farmwork. It was later crossed with thoroughbreds to produce a well-built riding horse. Many leading European riders ride Hanoverians, and these horses are very much in demand for show jumping.
History
The Hanoverian owes much to the German-born British kings of the House of Hanover. Between 1714 and 1820, they sent the finest English thoroughbreds back to Germany to breed with descendants of the German Great Horse. The result was the Hanoverian, which is one of the finest showjumping horses in the world today.
Community content is available under
CC-BY-SA
unless otherwise noted.