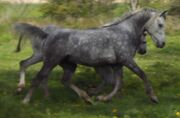 Dapple gray
is an intermediate stage not seen on all grays, but often considered highly attractive. It consists of a dark hair coat with "dapples," which are dark rings with lighter hairs on the inside of the ring, scattered over the entire body of the animal. It is another possible intermediate step in the graying process of the horse. Dappled grays should not be confused with the slight dappling "bloom" seen on horses that are very healthy or slightly overweight, as "bloom" dapples disappear should the horse lose condition.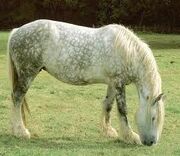 Community content is available under
CC-BY-SA
unless otherwise noted.