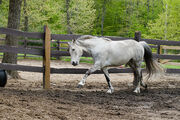 This handsome-looking pony comes from the mountains of the west of Ireland. It's patient, hand working nature makes it very popular. At 13-14hh, it is larger than most other ponies. They are usually grey or dun, but are also commonly black and bay. Even though it is possible, it is rare for a Connemara to be chestnut, palomino, or roan.
Origin
The Connemara was originally brought to Ireland by the Celts. Then, they looked alot like a Shetland Pony. The Celts bred them to Irish Hobbies and Spanish Jennets. As time went on, they were bred to Thoroughbreds, Welsh Cobs, Irish Draughts, and Arabians.
Connemara ponies were used for hard work in Ireland. One family would usually only have one mare who produced a foal to be sold, pull a cart in the fields and cart the family to church on Sunday. If a mare did not do this and have good qualities, she would be replaced by one who did.
Appearance
The Connemara's dominant coloring is grey or bay. When used early on their dominant coloring was dun. They can also be palomino, black, and chestnut. There are the occasional roan too. Black points are accepted in most Connemara societies/organizations but piebalds Re not accepted.The average height ranges from 13 to 15 hands. The Connemara has a rectangular build which makes it a nice dressage pony. Although small in height the Connemara covers much ground without undue knee action. It has a well set pony head with wide set kind eyes.
Trivia
The Connemara has a natural jumping talent.
Connemara's can be used in any equine sport due to their versatility.
The Connemara's rectangular build makes it suitable for dressage.